Albany Condensate Pump Packages are designed to collect condensed liquid at remote locations in a steam system and move it back to the boiler room.
Assembly includes a centrifugal type pumps and include controls that de-energize the pump when water level in receiver is low. Assembly consists of a welded steel receiver or cast iron receiver with an industry-standard electric motor that is close coupled to a bronze-fitted, centrifugal pump.
Both simplex and duplex configurations are available with/without mounted, pre-wired control panels.
View similar products here.
Order yours today by requesting a quote now.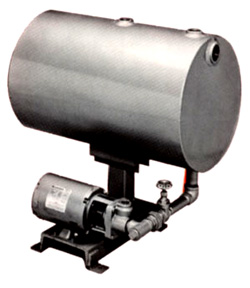 For information on a specific model, please select a series: