Albany Bronze Gear Pumps
•Bronze Corrosion Resistant Castings
•Special Cast Bronze Gears
•Stainless Steel Shafts & Fasteners
•Heavy Duty Carbon Bearings (Self Lubricating)
•Positive Displacement Flow
The Albany Bronze Rotary Gear pumps are an external gear positive displacement type. They are designed to handle clear lubricating and non-lubricating fluids. These pumps handle viscous fluids to 100,000 cps, differential pressures to 150 psig (10.3 BAR), and suction lift capability to 20 feet (6.1 meters) for new pumps.
View similar products here.
Order yours today by requesting a quote now.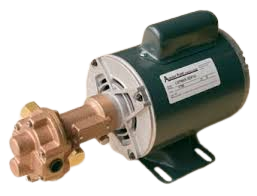 For information on a specific model, please select a series: